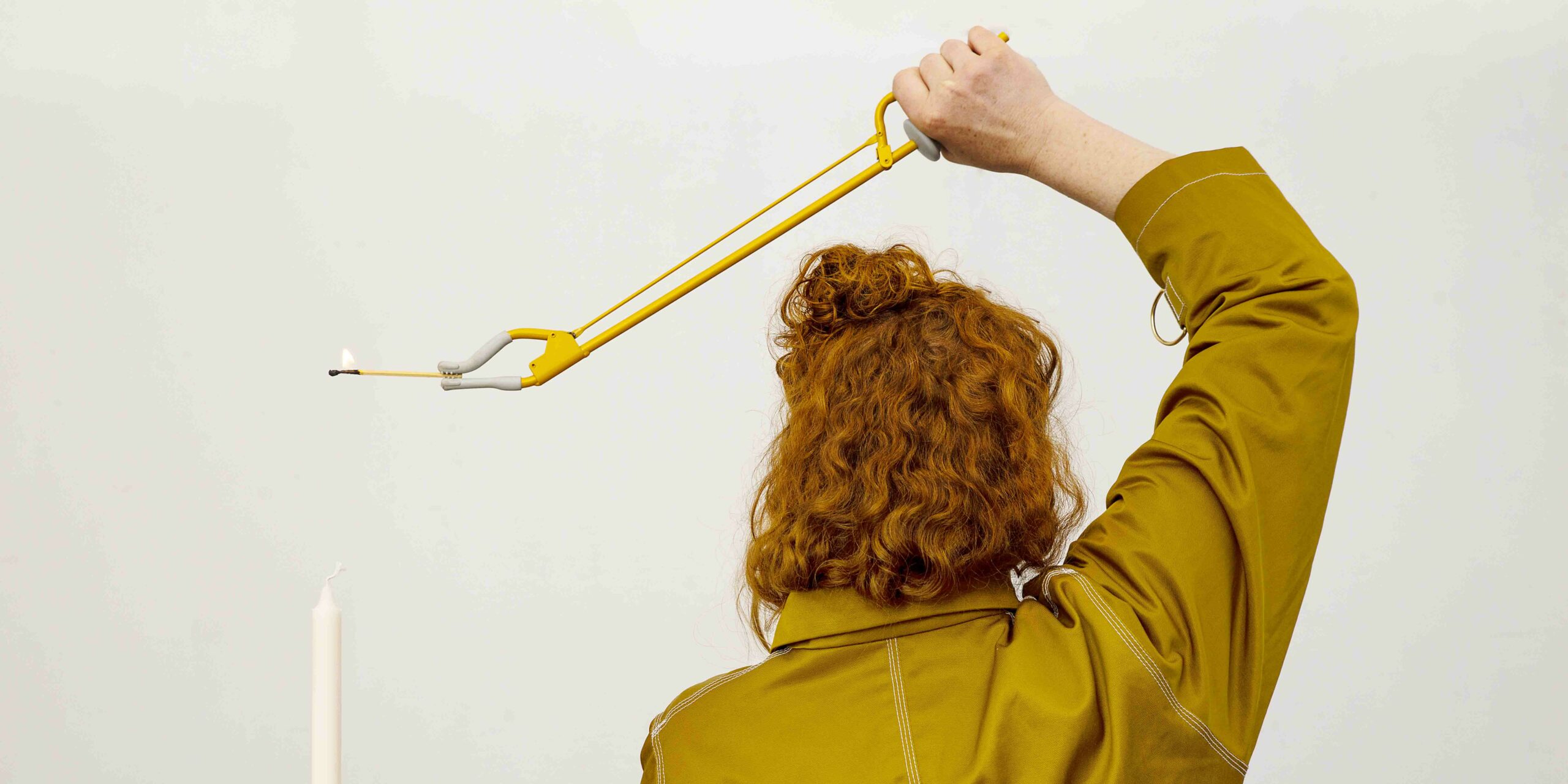 Denna sida upp
Denna sida upp – a performance about Swedish benevolence
"My grandfather was the baker's son. He loved school, but after six years in world of books, he had to start working in the steam from the baking oven. My other grandfather got to go to Uppsala and learn Latin, chemistry, and botany. He became a pharmacist. Somewhere there, between the scent of freshly baked bread and the glass jars in the library, I grew up. When I was turning five, a virus attached itself to my spine and concepts like muscle tone, fine motor skills and the Aid Center became a natural part of my world."
Denna sida upp is a performance where dance meets physical theatre. Where the Aid Center's everyday practical tools like the gripper, the shower chair and the stocking puller is transformed from mere props into dance partners. Focus is shifted from the object's functions', and they are elevated into something gracious and beautiful. Using her own experiences as the starting point, Emilia tells a story about the Swedish benevolence that's both abstract and absurd. It is about heritage and environment and how we are all constantly caught between the physical body and our mind, between the baker's toil and the pharmacist's theories.
The playful and rhythmic music for the performance is written and performed by musician and composer Anna Gustavsson, with texts by Emilia Wärff.
Trailer
Bilder
Tillgänglighet
Audio description
The performance is presented with  audio description by visual interpreator Eli Tistelö. Introduction to audio description takes place in connection with the performance. Assistance I available . If you need assistance or have questions, contact Veera Suvalo Grimberg at veera@danskompanietspinn.se.
Information
ENG
By and with
Emilia Wärff
Music
Anna Gustavsson
Texts
Emilia Wärff
Lighting Design and Stage
Åsa Holtz
Costume and Backdrop
Charlotte von Weissenberg
Artistic Advice
Hannah Karlsson
Voice work and Advice
Tone Helly-Hansen
Technician
Simmel Åslund
Construction
Klas Grimberg
Artistic Director
Veera Suvalo Grimberg
Production
Danskompaniet Spinn/Producentbyrån
Film and Editing
Åsa Båve
Photo
Lars Dyrendom
Thank you
Ossi Niskala
Scenstudion Gerlesborg and Michael Nordlind
Landvetters kulturhus