SpinnVäxa is inclusive dance groups for children, youth and adults with and without disabilities.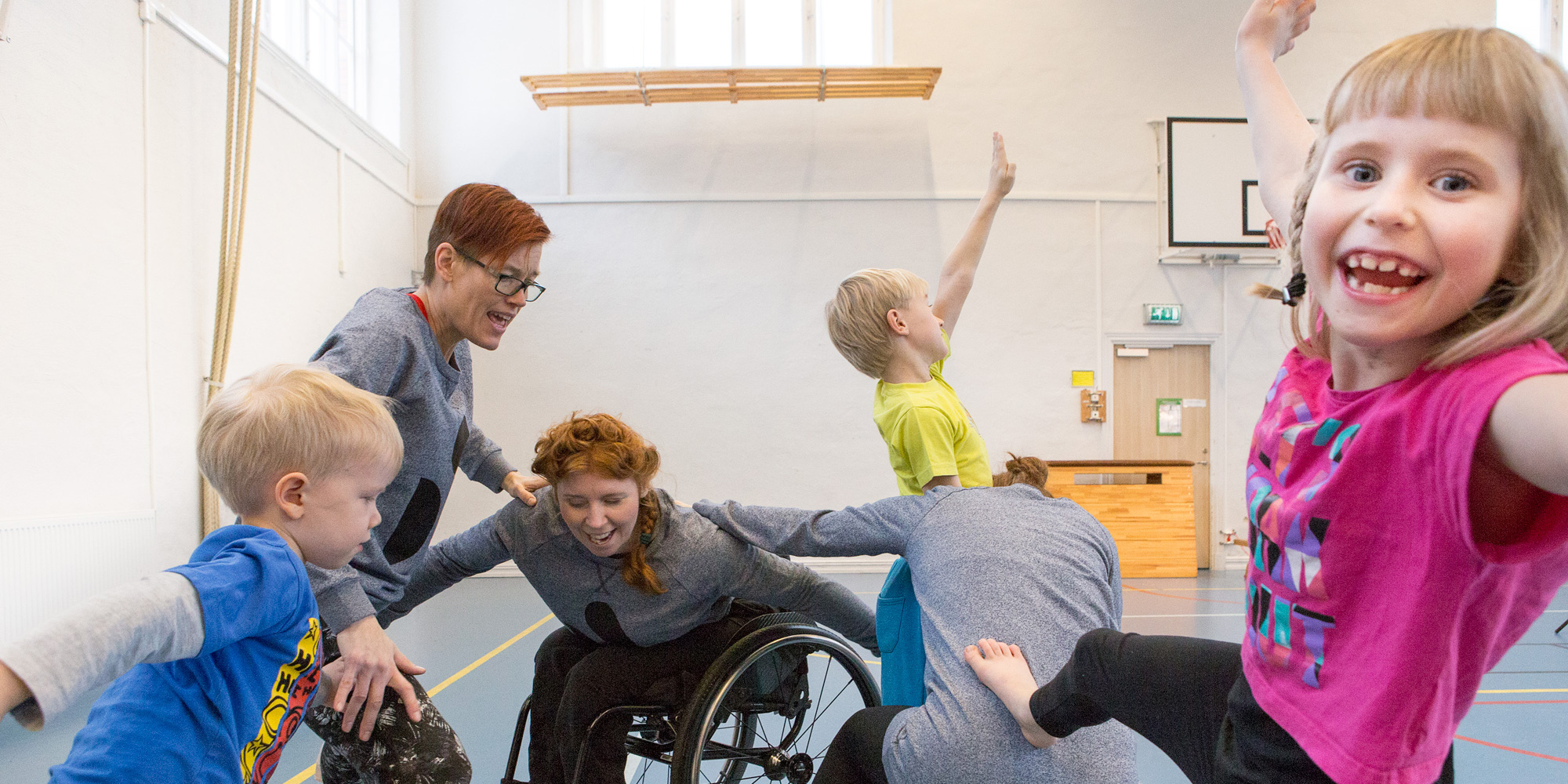 SpinnVäxa
In SpinnVäxa, the dancers meet on equal terms in dance groups divided by age. We work from each individual's unique possibilities, evolving both as individuals and as a group. Our approach towards dance education is simple, and we let curiosity and exploration guide our work forward. We strive for a participatory approach in our classes and we regard the participants as co-creators. We learn to cooperate and be part of a group, while simultaneously training movement, strength, concentration, balance, artistic expression and much more. Our dance technique comes from natural movement patterns, we explore different dance styles, using a wide variety of music. SpinnVäxa is an inclusive dance education where there's room for all types of bodies and people with and without disabilities. Our aim is that everybody should be able to develop within the art of dance.
The work with SpinnVäxa is done in collaboration with Studieförbundet Bilda and is funded by Allmänna Arvsfonden.
Would you like to join?
Sign up by e-mailing: jenny.sandgren@bilda.nu
Contact
Jenny Sandgren Wahlström, Director
Phone +46 (0) 739 25 24 02
Email jenny.sandgren@bilda.nu
Classes Spr-18
Starting: week 8
Easter break: week 14
Ending: week 18
Location: Spinnstudion, Järntorget 7, Gothenburg
SpinnVäxa 4-5 years
Wednesdays 16.30-17.15
Dance pedagogue: Linda Wardal
Cost: 500 sek/10 occasions
SpinnVäxa 6-8 years
Wednesdays 17.30-18.30
Dance pedagogue: Linda Wardal
Cost: 750 sek/10 occasions
SpinnVäxa 9-11 years
Tuesdays 17.15-18.15
Dance pedagogue: Linda Wardal
Cost: 750 sek/10 occasions
SpinnVäxa 12-15 years
Tuesdays 18.30-19.30
Dance pedagogue: Linda Wardal
Cost: 1000 sek/10 occasions
SpinnVäxa 16 years-adults
Thursdays 17.00-18.00
Dance pedagogue: Jenny Sandgren Wahlström
Cost: 750 sek/10 occasions
Registration
jenny.sandgren@bilda.nu