Already before the Covid-19 pandemic struck we had started planning for an upcoming duet together with Icelandic choreographer Lára Stefánsdóttir. But in the light of everything that happened with cancelled performances, postponed projects and the fact that the premiere of our coming production Moby Dick was moved to 2021, we suddenly had loads of time on our hands. And above all, lots of will to do something that would give us lust and energy and excitement! This resulted in Spinn's new performance Hannah Felicia that will premiere on October 29th 2020!
"You are welcome. Into a world that's almost private, but one that we share together. Where the love between two people tells a story of rivalry, tenderness, fellowship and sensuality. About an invisible line between liking and desiring."
Spinn's new duet Hannah Felicia is about sisterhood and the relationship between two people. Or are we perhaps merely seeing two sides of the same person? That longs to be seen, accepted and loved.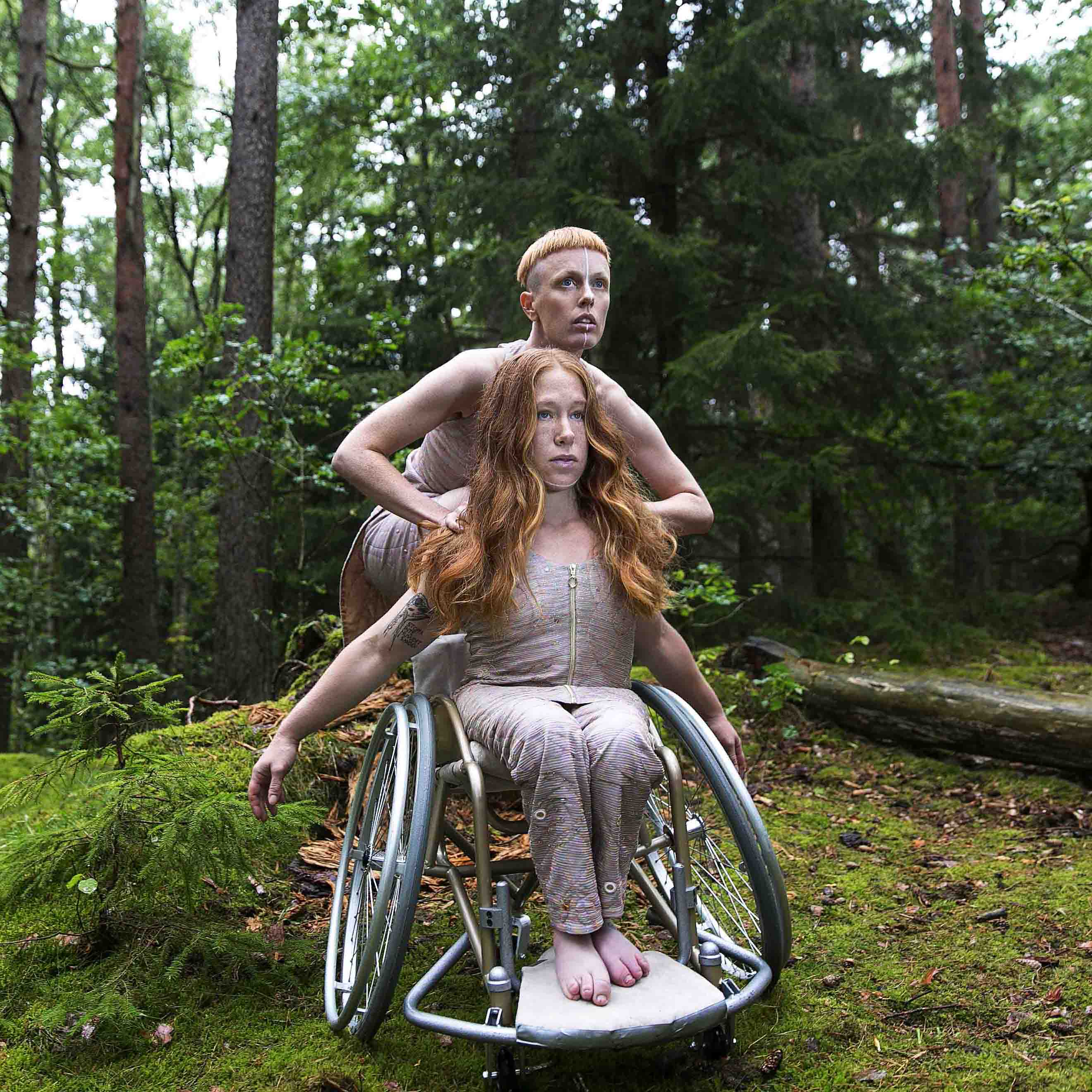 For several years, choreographer Lára Stefánsdóttir was artistic director and choreographer for Iceland Dance Company, and she has also been awarded several prizes for her works. We've been curious about working with her since she visited Spinnstudion in 2018 to lead a lab that was part of the EU project Moving Beyond Inclusion.
Hannah Felicia has evolved throughout 2020 and at the end of June/beginning of July we spent two amazing residency weeks at Kungsbacka Teater through Rum för Dans. The music for Hannah Felicia has been created by Icelandic composer Högni Egilsson, who a.o. has released music on celebrated record label Erased Tapes and created music for the interactive project Project XO for Sadler's Wells in the UK. Costume design was created by Charlotte von Weissenberg, who also did costume for Miramos. Sound design is created by Jonathan Fischhaber who works as Spinn's tour technician. At the beginning of August, photographer Anna Ósk Erlingsdóttir shot performance images and make-up and hair styling was created by Hannah Lindoff. And of course, most importantly of all – our amazing and wonderful dancers Hannah Karlsson and Felicia Sparrström. Who have given this performance all they have. We're so happy to have you as part of Spinn!