[:sv]Igår visades den sista föreställningen på vår Islandsturné och vi kan helt klart konstatera att denna resa varit en succé! Efter totalt sju föreställningar och en workshop så är det dags för teamet att packa ihop och bege sig hemåt efter två veckor på turné.
Reykjavík Dance Festival pågick i fem dagar och invigdes med en sprakande show från gruppen Little Sister på kulturhuset Iðnó där det även var mingelhäng på kvällarna. Förutom massa dansuppträdanden innehöll festivalen samtal och tillfällen att få möta besökare och medverkande. Vi är också så glada över att både koreografen Lára Stefánsdóttir och kompositören Högni Egilsson hade möjligheten att medverka på ett samtal mellan våra två föreställningar på torsdagen. Det var första gången som dansarna och teamet träffade dem båda eftersom repetitionerna till Hannah Felicia till stor del skedde digitalt. Tack till festivalens arrangörer och alla som varit med och samordnat denna ljuvliga festival!
I måndags åkte turnélasset och teamet ut på de isländska vägarna till det nordvästra samhället Ísafjörður. Det ligger så otroligt vackert vid en fjord omgiven av höga bergstoppar. Här visades Hannah Felicia på Edinborgarhúsið med en dagsföreställning för elever och en offentlig föreställning på kvällen. Därefter blev det en segerskål och ett stort hurra till teamet för turnéns sista föreställning. Det blev även en skål till Veera Suvalo Grimberg och Klas Grimberg som firar 25 år som gifta. Grattis till er! Tack Edinborgarhúsið och Ísafjörður som omfamnat oss väl!
Nu kan teamet luta sig tillbaka på planet hem och sammanfatta att det här gjorde vi bra! Hejdå Island och på återseende!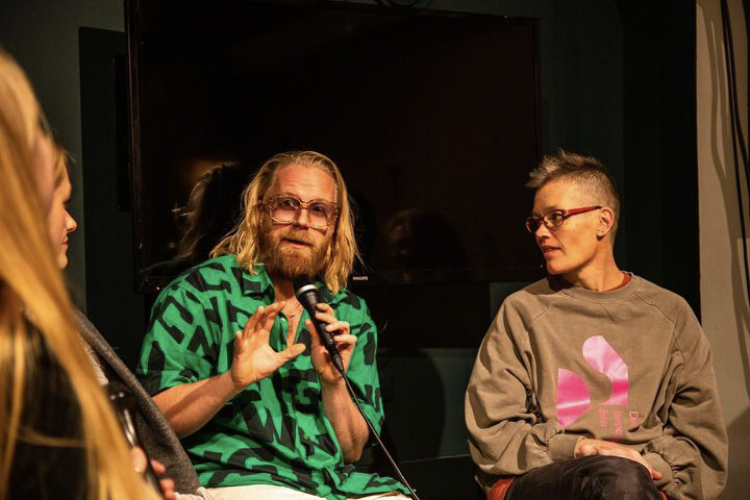 Från samtalet med kompositören Högni Egilsson, Veera Suvalo Grimberg och Lára Stefánsdóttir 17 november. Foto: Owen Fiene

Arrangören Ingi på Edinborgarhúsið, Veera och Lára
[:en]Yesterday was the last show on our Iceland tour and we can clearly state that this trip was a success! After a total of seven performances and one workshop, it's time for the team to pack up and head home after two weeks on tour.
Reykjavík Dance Festival lasted five days and opened with a sparkling show from the group Little Sister at Iðnó, a cultural center where there was also a mingling party in the evenings. In addition to lots of dance performances, the festival included talks and opportunities to meet visitors and participants. We are also so happy that both the choreographer Lára Stefánsdóttir and the composer Högni Egilsson had the opportunity to participate in a conversation between our two performances on Thursday. It was the first time that the dancers and the team met them both because the rehearsals for Hannah Felicia< /em> largely happened digitally. Thanks to the festival's organizers and everyone who was involved in coordinating this lovely festival!
On Monday, the tour crew and team hit the Icelandic roads to the northwestern community of Ísafjörður. It is so incredibly beautiful by a fjord surrounded by high mountain peaks. Here Hannah Felicia was shown at the Edinborgarhúsið with a daytime performance for students and a public performance in the evening. Then there was a victory toast and a big cheer for the team for the last performance of the tour. There was also a toast to Veera Suvalo Grimberg and Klas Grimberg who are celebrating 25 years of marriage. Congratulations to you! Thank you Edinborgarhúsið and Ísafjörður for embracing us well!
Now the team can sit back on the plane home and conclude that we did this well! Goodbye Iceland and goodbye!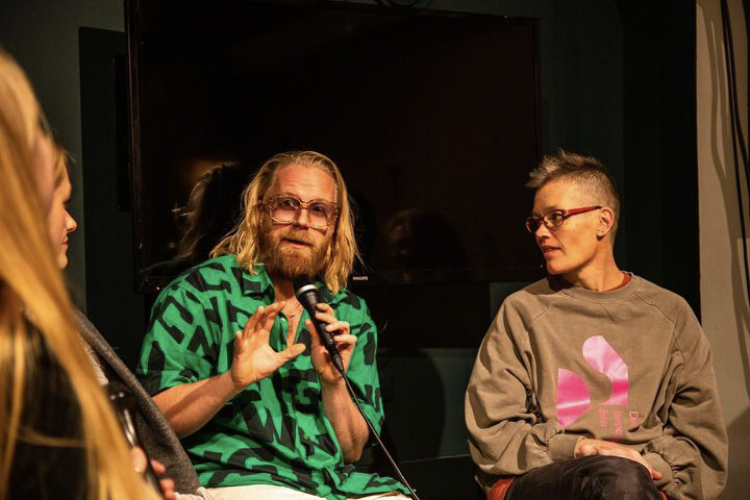 From the conversation with composer Högni Egilsson, Veera Suvalo Grimberg and Lára Stefánsdóttir November 17. Photo: Owen Fiene

Organizer Ingi at Edinborgarhúsið, Veera and Lára[:]