News
Thank you Reykjavík and Ísafjörður!
Yesterday was the last show on our Iceland tour and we can clearly state that this trip was a success! After a total of seven performances and one workshop, it's time for the team to pack up and head home after two weeks on tour.
Reykjavík Dance Festival lasted five days and opened with a sparkling show from the group Little Sister at Iðnó, a cultural center where there was also a mingling party in the evenings. In addition to lots of dance performances, the festival included talks and opportunities to meet visitors and participants. We are also so happy that both the choreographer Lára Stefánsdóttir and the composer Högni Egilsson had the opportunity to participate in a conversation between our two performances on Thursday. It was the first time that the dancers and the team met them both because the rehearsals for Hannah Felicia< /em> largely happened digitally. Thanks to the festival's organizers and everyone who was involved in coordinating this lovely festival!
On Monday, the tour crew and team hit the Icelandic roads to the northwestern community of Ísafjörður. It is so incredibly beautiful by a fjord surrounded by high mountain peaks. Here Hannah Felicia was shown at the Edinborgarhúsið with a daytime performance for students and a public performance in the evening. Then there was a victory toast and a big cheer for the team for the last performance of the tour. There was also a toast to Veera Suvalo Grimberg and Klas Grimberg who are celebrating 25 years of marriage. Congratulations to you! Thank you Edinborgarhúsið and Ísafjörður for embracing us well!
Now the team can sit back on the plane home and conclude that we did this well! Goodbye Iceland and goodbye!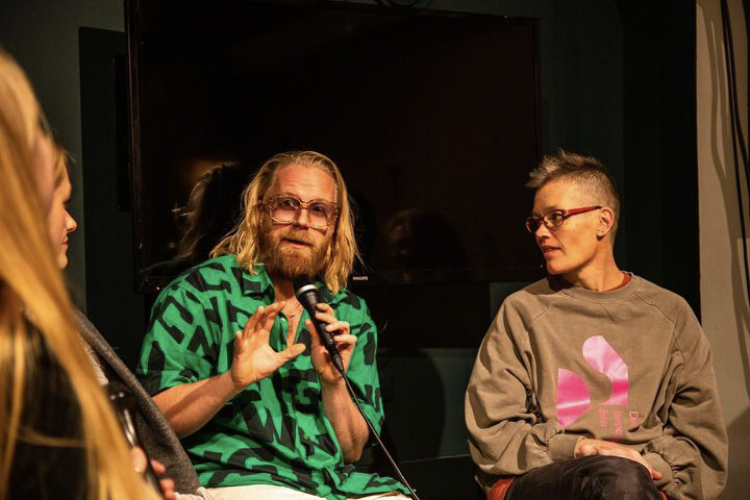 From the conversation with composer Högni Egilsson, Veera Suvalo Grimberg and Lára Stefánsdóttir November 17. Photo: Owen Fiene

Organizer Ingi at Edinborgarhúsið, Veera and Lára